Metinvest Group has handed over one more shipment of hygiene kits for large families in Dnipropetrovsk and Kirovohrad oblasts. The assistance was provided as part of the Saving Lives humanitarian project. Overall, the company delivered 3,700 kits to five local communities. Kryvyi Rih Foundation for Future helped with coordination and logistics issues.
The hygiene kits have been distributed in Hleiuvatka, Lozuvata, Petrove, Shyroke and Karpivka communities. The kits come with a range of personal hygiene items for all essential care needs of adults and babies and will last for several weeks. The administrations of communities decide on the amount of assistance depending on the number of children and family social status. For many people this assistance helps save money on a tight family budget.
"Like for many other Ukrainian people, the life of our family has changed, and not for better, since the launch of the all-out war. It's hard emotionally because of constant shelling and panic. We are really worried for children. We all send our great respect to the Armed Forces of Ukraine that defend our land and especially to those who defend the sky. We want to thank all the people who care about us, volunteers, and business representatives who support people. They provide all required assistance to our children," says Kateryna Borkova, mother of a large family who resides at Lozuvata community.
Since the onset of the full-scale invasion, 500,000 Ukrainians have already benefited from the project, including the local communities of Dnipropetrovsk and Kirovohrad oblasts that are home to employees of Metinvest's Kryvyi Rih-based businesses and IDPs. All the vulnerable groups regularly receive assistance from Saving Lives.
"We fled Mariupol in March 2022," says Hanna Bakhova, a displaced person who resides in Hleiuvatka community. "We were welcomed here, and there are very nice people who help us. Also, we receive regular assistance from the village council and Saving Lives. Thanks to their support, we find the strength to live on and wait for our victory."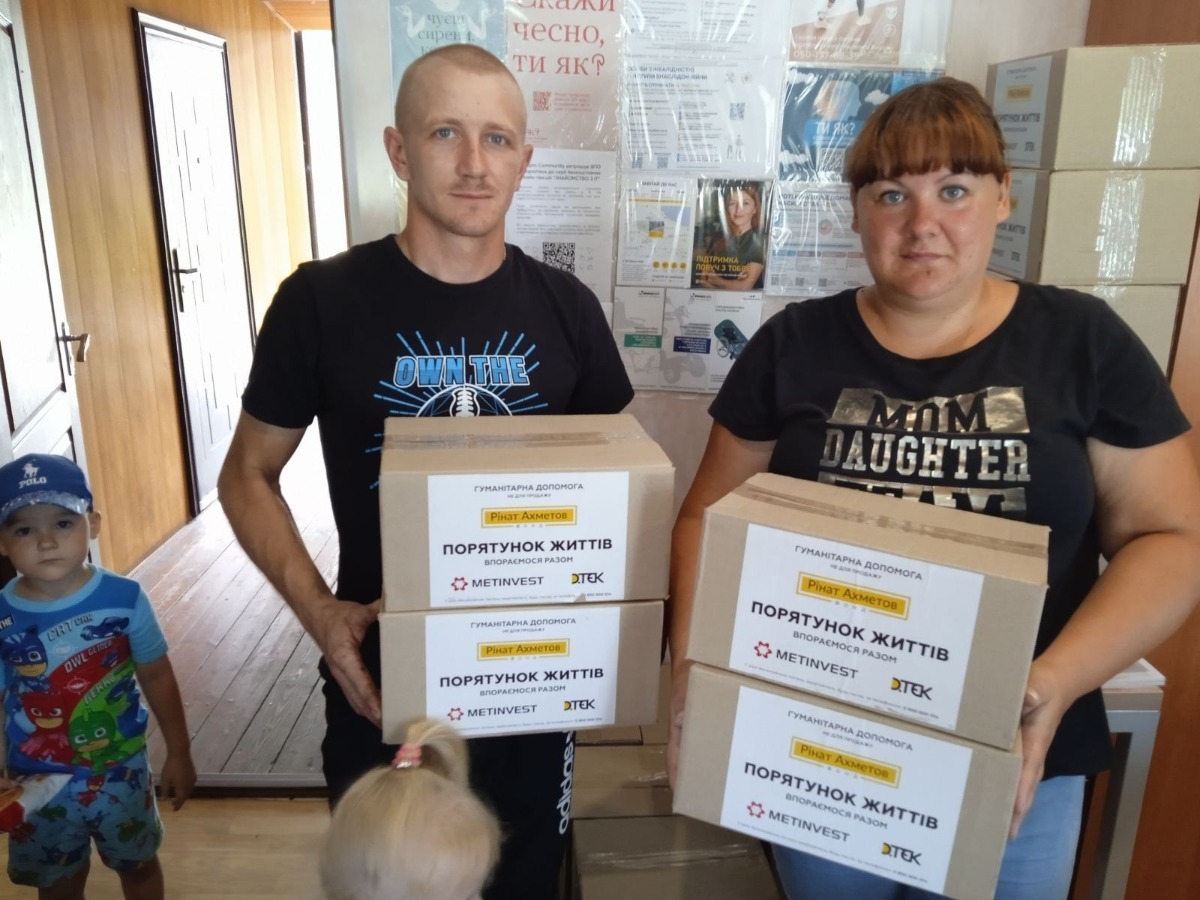 The Saving Lives humanitarian initiative was launched by Metinvest Group in concert with the Rinat Akhmetov Foundation on the onset of the Russian invasion of Ukraine. Over 15 months of the all-out war, the project provided assistance to residents and IDPs from 70 communities. Ukrainians received more than 4,200 tonnes of food products and hygiene items, and hospitals benefited from medicines, consumables, and equipment worth more than €250,000.
Nearly 200 businesses around the globe, 400 volunteers, and 10 foundations and NGOs have joined the initiative. The total aid received from donors exceeds €2.7 million.